Moderators: F 272, b8099ok, ginting, FRD, artoodetoo, y_anjasrana
SM Specialist

Posts: 10915
Joined: 08 Oct 2013, 21:30
Location: Semarang
Daily Vehicle: Civic FK4
sorry maksudnya pajero (sport)

New Member of Mechanic Engineer

Posts: 799
Joined: 17 Jan 2011, 13:32
Location: Paragon City
stelah bapakjero semprot peslip
akir nya dateng juga a niu celenjer utk siarpi tulbo, rev for, x-ngetrail dan c cross five
welkam miksubiji otlander non semprot oliginal 2022


https://www.carscoops.com/2021/02/all-n ... d-to-know/
Don't
ate
New Member of Mechanic Engineer

Posts: 663
Joined: 15 Jul 2013, 09:40
Akankah outlander masuk indo? Rasanya susah selama masih ada pajero sport di sini. Harganya overlap satu sama lain soalnya
Full Member of Junior Mechanic

Posts: 89
Joined: 27 Feb 2018, 05:50
Daily Vehicle: RU1
fabreguz

wrote:

↑

19 Feb 2021, 14:53

stelah bapakjero semprot peslip

akir nya dateng juga a niu celenjer utk siarpi tulbo, rev for, x-ngetrail dan c cross five

welkam miksubiji otlander non semprot oliginal 2022

https://www.carscoops.com/2021/02/all-n ... d-to-know/
kalo liat gambar ini kok jok baris ketiganya keliatannya sangat ga manusiawi.. jongkok banget rupanya
Member of Mechanic Engineer

Posts: 2599
Joined: 16 Aug 2017, 15:07
Location: Bali, Indonesia
Daily Vehicle: ANPS+XpC
Guanteng Banget ini Boil, lebih Pas
Biar Pun basis'nya pakai punya Nissan
Gak Maksa kaya ASX dan ANPS Facelift
Wajah & Bumper Kotak, Body ttp Bulet2
Terutama yg Grey, Cocok di Bentuk Kotak2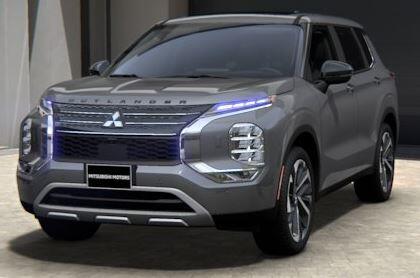 Last edited by
Winz
on 19 Feb 2021, 16:34, edited 1 time in total.
Visitor

Posts: 2
Joined: 23 Jun 2016, 21:15
numpang komen selama ini silent rider wkeke, waktu nonton videonya di yutup, entah kenapa kapnya terlihat seperti land rover, dan buntutnya seperti mercedes-benz
New Member of Mechanic Engineer

Posts: 589
Joined: 02 Nov 2013, 15:00
Exactly
Bukti lompatan maju Mitsucars sejak design language Dynamic Shield dimulai tahun 2015 dengan ANPS 4N15
Platform dari Nissan ?
Bukan sama sekali secara ini AN Outlander dibangun dari platform Mitsubishi Engelberg Tourer. Sektor dapur pacu baru sharing dengan mesin terbaru Nissan PR25DD pengganti QR25DE yang sudah on duty sejak tahun 2000.
Mitsubishi ASX (Indo DM=OS) memang sudah terlalu uzur dan harus segera major update. Tapi walau begitu ternyata ASX masih CUV terlaris di AUDM mengalahkan HR-V, CX-3 dan Kona. Sehingga Mitsubishi memutuskan untuk FL Eclipse Cross dulu yang penjualannya total. jeblok sambil sekalian R&D AN OS/ASX/RVR versi Battery EV. Pasti berat di cost jika meluncurkan versi All New dan FL secara bersamaan di masa pandemi begini secara HQ Nissan Japan sendiri sudah bokek sejak terus berseteru dengan "Mr Bean" hahaha.
Calon pengganti Old ASX di platform Mitsibishi eX Concept yang bahkan sudah ada lebih awal dari XM Concept. Mitsu eX Concept terlihat seperti Xpander versi 5 seater dengan X-Shape ala Dynamic Shield yang lebih proporsional antara muka depan dan buritan daripada Xpander.
Semoga segera ada Next Gen OS secara saya juga sudah tak sabar menunggunya hahaha
New Member of Mechanic Engineer

Posts: 626
Joined: 27 Sep 2016, 15:34
Nice design & fresh design dibanding gen sebelumnya yg memang bentuknya sudah dipaksakan dari original design (termasuk ASX/Outlander Sport). Yg lebih mantep akhirnya sasis baru, setelah sasis yg lama ud dipake dari Outlander Gen2 (2006) & Eclipse Cross yg terbaru pun masih pake sasis lama ini yg selain utk cost cutting juga masih capable.